Voilà...ça c'est fait....
le premier laser de combat stand alone est opérationnel et visiblement redoutable.
" Northrop Grumman Announces the FIRESTRIKE(tm) Laser, World's First Weaponized Solid-State Laser for U.S. Military Services"
ils vont pouvoir faire du pop-corn
http://www.irconnect.com/noc/press/page ... l?d=154600
FIRESTRIKE(tm) Laser Features
Power 15kW laser
Beam Quality Nominally 1.5 times the diffraction limit
Size Laser head - 12" x 23" x 40' (width, depth, height)
Current source - 9" x 13" x 30"
Runtime Continuous, as long as power and coolant are
provided
Instant Turn-on Zero to full power in less than 1/2 second
Safety Remote operation, customer interlock access,
internal safety sensors
Control Common Command and Control (C2) systems and
Ethernet interfaces
Low Power Setting Provides nominally 100 watt alignment beam
Weight 400 lbs per LRU
Ruggedization Hardened LRUs with compact SSL technology
engineered for mobility and field operations
The FIRESTRIKE TM laser LRU system is uniquely designed for scaling high-energy lasers to desired power levels. Each 15kW LRU can be combined with multiple units to fit specific warfighting missions and/or platforms, as pictured above. The result is a flexible "game-changing" military capability with tailored lethality.
Voilà certainement les génies qui sont à la base de ce projet (mais ne m'écoutez pas, ne m'écoutez pas
)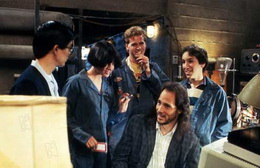 Des précisions ?
5 armes de fictions qui sont actuellement en développement ou déjà développées et testées.
Je reviens sur ce truc que j'avais entendu, où une "spécial unit" de scientifiques analysent si des armes de fictions pourraient être réalisées ou non.
http://www.cracked.com/article_16477_5- ... lding.html
vous êtes bien Chris Knight ?
Je ne sais pas...je porte son slip.
c'est une blague !!